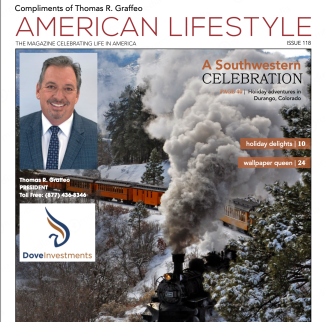 A Southwestern Celebration
As the holidays approach, it's only natural to seek out opportunities for warmth and connection. In these days of economic upheaval, political division, and global instability it has never been more important for us to seek perspective and connection.  What is the antidote to this spirit of malaise that surrounds us? 
We, at Dove Investments, believe it is significant connections. Most importantly it is connecting with our Heavenly Father. Psalm 34:18 says, 'The Lord is close to the brokenhearted and saves those who are crushed in spirit.' Secondly, it is a connection with God's people.  Family, friends, and fellow Christ followers become so important amid the ambiguity of our days because of what they contribute to our sense of 'belongingness.' Finally, generosity and love are wonderful ways to realign our perspective.  1 Corinthians 9:11 reminds us of how blessed we are as God's children - 'You will be enriched in every way so that you can be generous on every occasion, and your generosity will result in thanksgiving to God.' When we help others – family, friends, co-workers, our community, and people across the world in need – we are responding in thanksgiving to God's generosity towards us.
What can you do?  Look around you for needs.  Veteran's assistance organizations, local homeless ministries, and organizations providing aid to refugees from Ukraine are just a few. We encourage you not to just give money but to give of your time and talents and involve your family. Use this season to foster connection and relationships and display the same generosity God has offered you!
This issue of American Lifestyle magazine points the way towards warmth and connection. Designer Colleen Simonds creates warmth through color and design. Durango, Colorado, will transport you to a winter storybook setting with its charming downtown and Durango & Silverton Narrow Gauge Railroad. You'll also find an entire article devoted to giving back from the heart.
Please reach out if you feel any uncertainty regarding your financial plan and goals. We are always here for you – to understand a complex financial issue, adjust your plan to align with your goals, or reassure you that your plan is on track. As always, it's a pleasure to send you this magazine.
The Dove Investments Team
Click here to view most recent edition of American Lifestyle Magazine