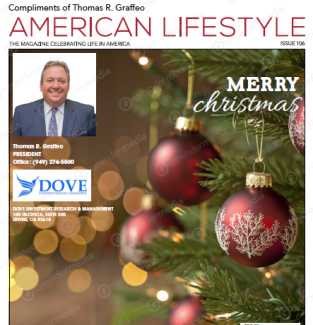 MERRY CHRISTMAS to each and every one of you.  In this season we celebrate the gift of JESUS - who is the Blessed Redeemer, the Living Word, the Name Above All Names, the Beautiful Savior, the Glorious Lord and Emmanuel, God with us.
Uncertainty continues to dominate the news. The election is behind us but it continues to impact us.  This global pandemic lessens in intensity one day and then picks up energy the next.  With all this going on we desire that you experience – HOPE, PEACE, JOY & LOVE with God, family and friends – in this Christmas season
This issue of American Lifestyle magazine offers an array of festive adventures to consider during the Christmas season. In Colonial Williamsburg you can go back in time to the eighteenth century. In Washington State, you can enjoy Argosy Cruises' Christmas Ship. In upstate New York, you can book a room at the Poke Lodge in the Catskill Mountains.
What new traditions will you start this season? What traditions will you continue? Here is one idea. For 35 years, the DeKlotz Family has enjoyed Christmas Eve breakfast at Wilma's Patio on Balboa Island.  After breakfast, we walk the quaint Marine Avenue and enjoy hundreds of Harley Davidson Santa's who descend upon the Island at 11 AM. Quite a sight to behold. This tradition started with just Rob & Jennifer and now includes their adult kids, spouses and grandchildren. 
As always, we express our love and appreciation to you.
Click here to view American Lifestyle Magazine