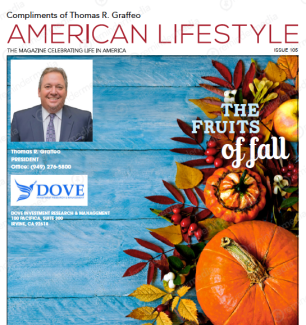 It's Fall and Thanksgiving is just around the corner.
Bracketed by the end of summer on Labor Day and the coming of winter in December, Fall is a favorite season for many.  It is a time of shorter days, cooler nights and the changing of the colors.  It is the beginning of school year and the startup of football season.  It's a time of great tastes and smells and includes my favorite holiday - Thanksgiving.
This year our fall will be very different. Our kids and grandchildren are doing school from home, for now. There is uncertainty about when we will go back to work, restaurants, theaters, sporting events and church.  And of course, there is the upcoming election.  Some say we are settling into the 'new normal' but I see it as a time where we can find great hope and purpose in our values, our loved ones and our God. 
This issue of American Lifestyle explores the values we embrace from the places we grew up and the people who inspired us. What values do you carry from the places you grew up? What people in your life inspired you?
As you read this issue, look for our tear out - 30 Days of Gratitude.  This will help you to not miss one of the great joys of this season - expressing gratitude.  Whether it is thanking someone who has been influential in your life, sending a 'handwritten note' to a loved one or calling a friend - all are expressions of things that transcend the times. 
'Make thankfulness your sacrifice to God, and keep your vows to the Most High.  Then call on me when you are in trouble, and I will rescue you, and you will give me glory.' - Psalms 50:14-15
We at Dove Investments Research & Management are here to help you in any way we can. If you are thinking about any life change, give us a call.  If you are thinking about any end of year financial moves reach out to us now.  But most of all, we want to take the opportunity to express our gratitude and thanksgiving for you. You are the greatest clients in the world and we love serving you and your needs.  As always, it is a pleasure to send this magazine to you.
Be Thankful in this Season,
The Dove Investments Team
Click here to view American Lifestyle magazine