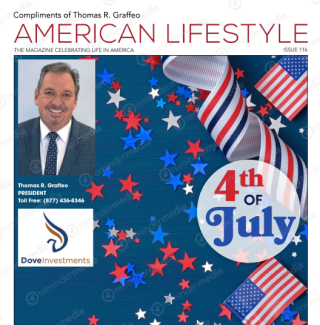 Summer in America means celebrating our nation. The flags, patriotic music, and fireworks brings out strong emotions in us as we reflect on America and its history. We are inspired by – the courage of our nation's founders; the bravery of those who have fought to defend our freedom; and the freedoms we enjoy as a 'nation of and for the people.' Our nation is by no means perfect.  America has had its up and downs over the years. Yet around the world, America is admired for its freedom and opportunity.
Today's uncertainties – warfare in Ukraine, inflation, rising interest rates, and a volatile stock market all challenge our fortitude. Unexpected events in our personal lives, in our families and in our finances can feel very unsettling. In times such as these we encourage you to do three things –
Trust in our God.  The 'times' are not a surprise to God and He is not frustrated in His plans by any human circumstances.
Continue to do good towards others.  Our faith and our nation are built upon the shoulders of many who put the needs of others above themselves and sacrificed greatly.
Lean into your family, friends and the Dove Investments Team. Uncertainty is a time to seek counsel and support. Financial planners know this principle – 'the support of an experienced, trusted financial planner and team is more valuable and needed in uncertain times than in good times.'
This issue of American Lifestyle magazine inspires those who might be seeking a new hobby, fresh scenery, or an updated look for your home. Jammy Cruz took up macaron making as a hobby and ended up starting a successful business. The quaint town of Ferndale offers a chance to explore a unique locale. Katie Zamprioli offers great tips on how refresh your home using patterned wallpaper. And, Mike Gibson reveals his artistic skills in topiary art.
As always, it's a pleasure to provide this magazine. 
The Dove Investments Team
Click here to view most recent edition of American Lifestyle Magazine.